sassa z83 form 2023-2024
sassa z83 form 2023-2024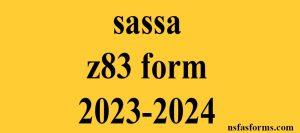 Government payments including the Child Benefit Grant, the Older Persons Grant, and, more recently, the R350 Social Relief of Distress Grant are distributed by the Social Security Agency of South Africa, or SASSA. Because Sassa is a government organization, you will need to complete the Z83 form when you apply for a position there. We can let you know when Sassa positions become available and how to complete the Z83 application if you're looking for a job with the government. You can also obtain the Z83 form from our website if you want to apply for a position with Sassa or any other department or agency of government.
The expense of looking for work is a barrier for many job searchers. The recent announcement from the South African government, however, might lower these expenses for job searchers.
Certified copies of applicants' educational credentials and other pertinent documents are no longer required on employment applications, according to a Department of Public Service and Administration (DPSA) announcement.
This will cut down on the expense of looking for work while submitting a job application to the state.
In 2019, the public, general, and local government departments, colleges, technikons, and extra-financial organizations all employed almost 13% of all professionals in the nation.
Additionally, the state employed 1.2 million full-time equivalent workers for the fiscal year 2018–19. This excludes temporary workers who make less than 12 salaries annually.
How to Fill Out a Z83 Form: A Guide

To download a Z83 form, click this link. You must then print it out and complete Part A, which includes details regarding the advertised position.

Part B requires access to all of your personal information.

Your preferred mode of contact and contact information are requested in Part C.

In Part D, you must state your official credentials from highest to lowest.

Completing sections E, F, and G. There isn't much room in these segments. Candidates may indicate "see connected" in their curriculum vitae (CV) as long as the CV is annexed with all the required information.

By signing the declaration, you represent that the information you have supplied, including any attachments, is accurate to the best of your knowledge.

In the bottom right corner of each page, where it says "Initial:……..," type your initials.

Include any necessary supporting documents.

For the finished form, you will have been provided a mailing or hand-delivery address.

The most recent Z83 form must be used by applicants for matters relating to employment. The applications will be disqualified if they don't comply.
SOCIAL GRANTS
RELATED LINKS
For more info on Sassa Online Application click here