sassa top up grant 2023
sassa top up grant 2023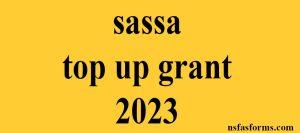 The cost of life in South Africa has recently surged due to sharp increases in the price of electricity and gasoline, two essential input expenses for enterprises. Sassa grant beneficiaries are affected by the rise in food and transportation prices as a result of this.
The food basket increased by R472.78 (11.4%) from R4 137.11 in May to R4 609.89 in May, as measured by the Household Affordability Index. This demonstrates the rising cost of living in South Africa.
Orphan caregivers will be entitled to a higher payment amount, according to the South African Social Security Agency (Sassa). They will be more equipped to handle the nation's rising cost of living as a result.
To help families caring for orphans fulfill their basic necessities, the Sassa Child Support Grant (CSG) Top Up was created. Its main objective is to retain children in the custody of the extended family.
These children will earn a total of R720, which includes the R480 base CSG and an additional R240.
Caregivers who meet the requirements can now apply for the CSG Top Up online or at any SASSA local office.
Here is a list of the requirements to apply for the child support grant top-up.
copy of the parent(s) of the child's who passed away certificates;

A certified copy of the parent's death certificate and an affidavit from the applicant attesting to the unknown status of the other parent are required if the applicant is unable to get the death certificate for one of the child's parents.
SOCIAL GRANTS
RELATED LINKS
For more info on Sassa Online Application click here