sassa srd grant 2023-2024
sassa srd grant 2023-2024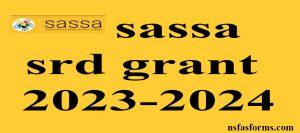 The South African government provides social aid to those who are in need. The SASSA is in charge of overseeing social grants in South Africa. Those who are in need of government support to raise their level of life and who are in risk of sliding into poverty may be eligible for social grants. Parents with small children, the elderly, and those with disabilities are commonly included. For a social grant, a South African citizen, authorized permanent resident, or refugee must apply (proof of such status must be provided). Additionally, they must be South African nationals.
Online application for the South African Social Security Agency (SASSA). Following any of the procedures listed below, applicants may submit their applications online.
APPLICATION THROUGH WHATSAPP
SRD WEBSITE APPLICATION
THROUGH SASSA CHATBOT APPLICATION
APPLICATION THROUGH WHATSAPP

How to use WhatsApp to apply for the SRD award is shown in the stages listed below.
To apply, send a WhatsApp message to 082 046 8553.

The candidate must enter personal data as requested by the chat.

A reference number, an OTP number, and a website link will be sent to the applicant.

The candidate must choose the link, type their OTP, and then select verify.

The applicant must include their ID number and last name.

The applicant attests to the information provided in the chat.

please go to Step 2 ACKNOWLEDGE TERMS AND CONDITIONS
SRD WEBSITE APPLICATION
How to submit an application via the SRD website is shown in the steps listed below.
Open a new tab in your browser. Mozilla Firefox, Opera Mini, Google Chrome, and more browsers.

Find it by typing https://srd.sassa.gov.za.

The applicant provides their ID number and phone number before pressing the SMS button.

A six-digit OTP number will be supplied to the applicant.

After entering the OTP number, the applicant must select the Verify Pin option.

Please proceed to Step 2: ACKNOWLEDGE TERMS AND CONDITIONS
THROUGH SASSA CHATBOT APPLICATION
The steps described below demonstrate how to apply using the SASSA Chatbot.
Open a new tab in your browser.

Try typing in www.sassa.gov.za.

The applicant will visit the website and choose the chat box for SRD R350 Grant Help.

The applicant gives identification and a cellphone number.

In the chat window, the applicant will pick I wish to apply for SRD R350 award.

You will be sent to the SRD website via the chatbot.

The applicant will adhere to the SRD website's guidelines.

Step 2 should now be taken: ACKNOWLEDGE TERMS AND CONDITIONS
You can apply online here
RELATED LINKS
Sassa Online Application Grant 2022
SRD Grant Online Application Types
Sassa Online Application Grant 2022
For more infor on Sassa Online Application click here