sassa post 2023-2024
sassa post 2023-2024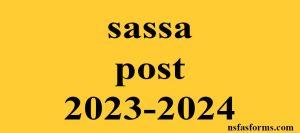 Recipients of Sassa social grants will need to make alternate arrangements in order to get paid. This comes after the agency's most recent statement regarding the procedures it uses to collect grants.
Sassa grant beneficiaries have been instructed to withdraw cash from merchants and ATMs as an alternative. This comes after it was disclosed on Thursday that system faults had hampered the agency's grant payment operations at the Post Office.
As a result, only authorized retail locations around the nation, including Shoprite, Checkers, Usave, Pick & Pay, and Boxer, offer the cashback option, where social grant withdrawals can be made.
The system failure at Post Office locations, according to acting Postbank CEO Lucas Ndala, affected all Postbank clients planning to undertake over-the-counter operations, including deposits and withdrawals.
We apologize for the inconvenience caused to our SASSA social grant recipients and Postbank clients. We take every service interruption seriously. Our IT teams have been given the urgent responsibility of resolving the technical issues affecting the over-the-counter branch transactions.
He continued by saying that Sassa's usage of a fully functional bank card lessens the impact on clients when one of the National Payment System's access points fails.
Because they function totally within the nation's payment system, just like any other bank card, Sassa grant recipients can use their Sassa Gold cards to make purchases at any establishment that accepts bank cards.
The Post Office and Sassa have also promised all Sassa beneficiaries and stakeholders that Postbank will inform everyone once the issue has been fixed.
The organization will continue to diversify its grant payment channels, according to Sassa's interim CEO Abraham Mahlangu, to lessen dependency on any one particular access point while still paying the right social grant to eligible beneficiaries at the proper time and place.
SOCIAL GRANTS
RELATED LINKS
For more info on Sassa Online Application click here