sassa cellphone banking 2023-2024
sassa cellphone banking 2023-2024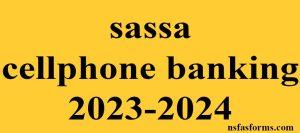 Since the beginning of August, more than 11.2 million people have applied for the exclusive Covid-19 R350 Social Relief of Distress grant.
In order to process R350 awards more quickly, the South African Social Security Agency (SASSA) has asked applicants to disclose their banking details.
How to Change Your Banking Data
Please follow the instructions listed below if you are an SASSA SRD R350 Grant-approved beneficiary and want to update your banking details.
Visit the SASSA website https://srd.sassa.gov.za/

Find the 'How do I change my banking details

Insert your ID number

To the cell phone number you gave when submitting the application, an SMS containing a secure link will be delivered.

Visit the link provided in the SMS.

Choose the entry for bank account details. Enter your banking details (It must be your personal bank account).

Your grant cannot be paid into a mobile phone registered to another person by SASSA.
If no banking information is provided, recipients must pick up their grants at the post office. On days when disability, old age, and other social grants are distributed, the Post Office does not issue SRD R350 grants.
Sassa has outlined three options for changing your information:
CHANGE IT ON THE WEBSITE
Visit the Sassa website here or the SRD portal here.
GIVE THEM A CALL
Applicants should dial 0800 60 10 11 to reach Sassa's toll-free call center.
SEND AN EMAIL
Not coming right? Email grantenquiries@sassa.gov.za
SOCIAL GRANTS
RELATED LINKS
For more info on Sassa Online Application click here