Nsfas Balance 2024-2025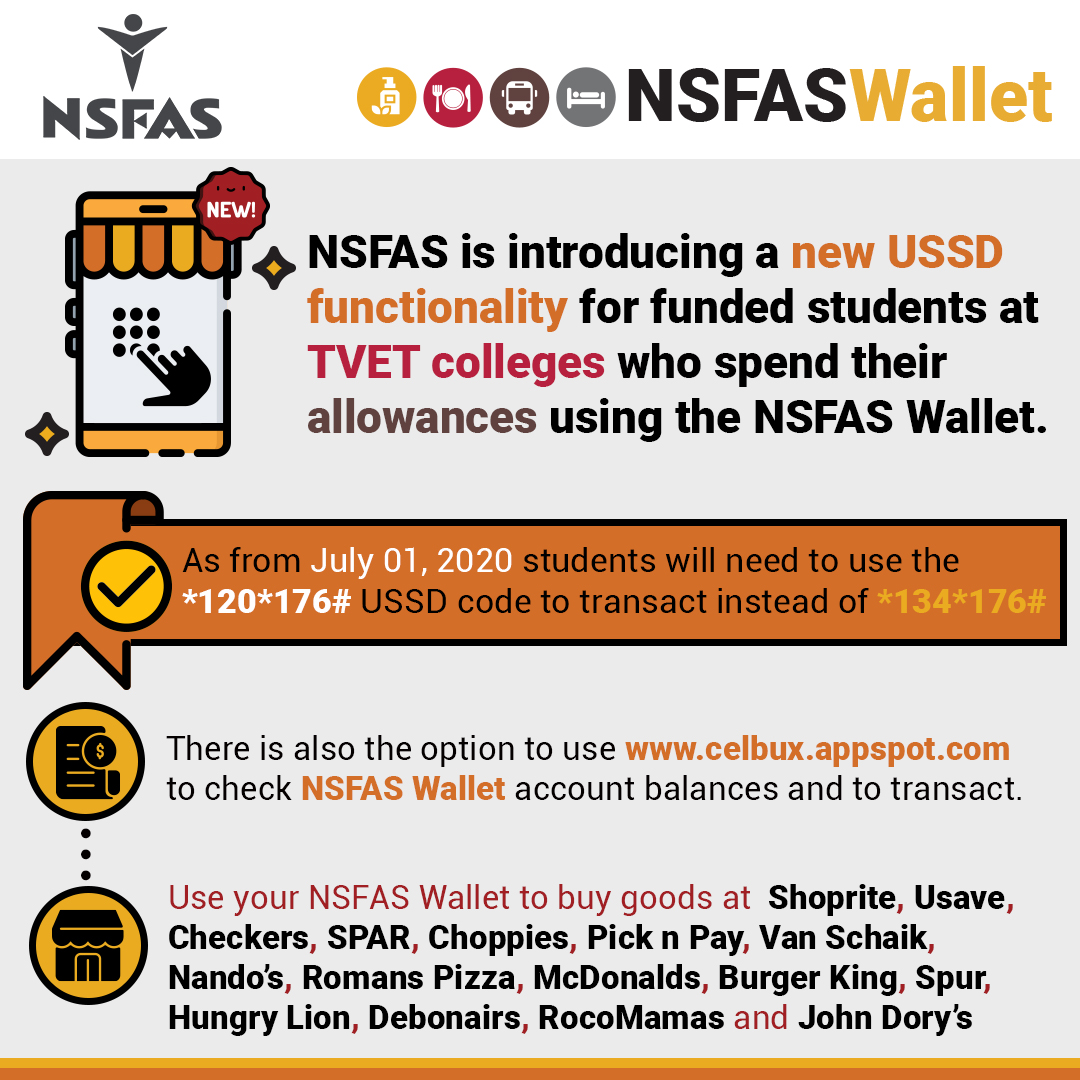 Nsfas Balance 2024-2025
Nsfas Balance 2024-2025: The National Student Financial Aid Scheme (NSFAS) provides students with an NSFAS wallet which allows NSFAS-funded students at certain tertiary institutions, to withdraw cash or spend it at any merchant registered by NSFAS. NSFAS-Funded students who qualify to receive allowances directly from NSFAS will receive cash funds in their NSFAS Wallets. Students must ensure that they have access to the cellphone number that they provided to NSFAS when applying for funding. This is because that number will be used to deposit their funds. If you have been wondering how you can check your balance in your NSFAS Wallet, keep reading to find out.
How To Register For a Nsfas Wallet
Follow these steps to register for your wallet,
On your phone, dial *120*176# and follow the prompt to verify & authenticate your account.
Your account password will be sent to you via SMS.
Once your account has been verified, you can access it simply by dialling the same *120*176#.
You can also access your account via celbux.appspot.com (more info below).
How To Check Your NSFAS Wallet Balance
On your cellphone:
Dial short code *134*176#
Enter your password
Click Send
Select option 2. Query
View cash balance and transactions
On the internet:
Enter the following link into your browser https://celbux.appspot.com
Log into your account by typing in your cellphone number and password and clicking the Login button
Click More
Click Transactions
View transactions
How to withdraw cash using nsfas wallet
On your cellphone
Dial the shortcode *120*176#
Enter your password.
Click Send.
Select option 1. Cash Voucher and click Send.
Enter the amount and click Send.
Your newly created voucher will be displayed.
Via Internet
Navigate to celbux.appspot.com.
Log into your account by typing in your cellphone number and password and clicking the Login button.
Click Pay.
Enter amount.
Click Done.
How To Unlock Your Wallet
Sometimes due to entering incorrect passwords multiple times, in a short period of time, your wallet can be blocked. So if your NSFAS wallet is blocked, follow these easy steps to unblock it and have instant access to your cash allowance.
Log into your myNSFAS account and Create a case
Submit a certified copy of your ID
Provide your active cellphone number
Indicate that your NSFAS Wallet is blocked
The NSFAS will process your case and send you notifications once your account is unlocked. Alternatively, contact NSFAS on their social media pages with your case and they'll attend to it.
RELATED LINKS
For more information on nsfas click here