Why did my SRD grant fail 2023-2024
Why did my SRD grant fail 2023-2024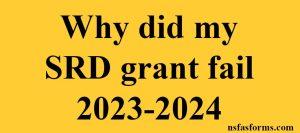 The agency that administers social grants in South Africa predicts that more applicants will submit applications for the R350 grant now that the legislation governing the grant has been changed. However, this can cause delays in getting decisions about whether you qualify for grants.
The Department of Social Development (DSD) amended the Social Assistance Act to increase the number of individuals who are qualified for the Social Relief of Distress (SRD) award.
Because of the potential for an increase of 10 million grant applicants, the South African Social Security Agency (Sassa) supported the amendments.
Before receiving the funds, someone must submit an application via the SRD grant website. Following Sassa's examination of their application, applicants can check the status of their SRD grants.
Some folks can't access their SRD grant status, though. Sassa claims that because the organization must review millions of applications, some grant applicants may have to wait longer for a response.
Remember that millions of applications are being processed concurrently by the application system, the agency said. Soon, your current status will be accessible.

Why did my SRD grant fail 2023-2024
Sassa sends the ID number, name, and surname you submit on your application to various banks and governmental organizations in order to verify grant applications. This is carried out to determine your eligibility for the SRD award.
The procedure of these grant verification checks may take some time, thus applicants are urged to be patient.
Once you are aware of the status of your SRD award, you can decide if you qualify for the essential relief mechanism. Additionally, it explains to applicants why Sassa chose to accept or reject their grant application.
The decision to reject your grant application can be appealed. It is important to remember that Sassa no longer handles appeals for R350 grants. The new forum for SRD grant appeals is the Independent Tribunal for Social Assistance Appeals (ITSAA).
SOCIAL GRANTS
RELATED LINKS
For more info on Sassa Online Application click here