Who qualifies for SASSA old age grant 2023-2024
Who qualifies for SASSA old age grant 2023-2024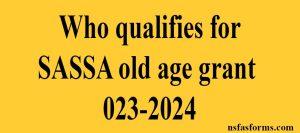 The Older Person's Grant, commonly referred to as the state old-age pension, is a monthly payment given to citizens, legal permanent residents, and refugees who are 60 years of age or older and have no other means of support. This grant is meant to help our senior citizens manage their money as they age.
If you fit one of the following descriptions, you may be eligible for an older person's grant:
You must be a South African citizen, permanent resident, or refugee.

South Africa is my home.

Are at least 60 years old.

Are not residents of a state institution.

Are not receiving payments from any other type of social grant.

Your spouse must pass the means test.

You must provide proof of your identity (ID).

You cannot earn more than R86 280 as a single person or R172 560 as a married person.

You have no assets worth more than R1 227 600 if single, or R2 455 200 if married.
Who qualifies for SASSA old age grant 2023-2024
The means test
Only those whose monthly income falls below a specific amount are qualified for the stipend. This is determined using a means test.
The South African Social Security Agency (SASSA) looks at the applicant's income and assets to evaluate whether or not the person qualifies for a grant because social assistance, like state handouts, is meant for persons who are unable to sustain themselves.
What is the amount of the elderly grant?
The old-age grant's amount varies annually. The most you may currently receive each month is R1 980. You will receive R2000 if you are older than 75. Any adjustments to grant amounts are disclosed annually at the beginning of Parliament or in the national budget speech.
What you should be aware of regarding the grant application procedure
Fill out an application for the old age award and submit it along with the supporting documentation listed below to the SASSA office that is closest to you:
your official identification card (ID).

If you lack identification, you must fill out an affidavit on a standard SASSA form before a Commissioner of Oaths who is not an SASSA representative.

You must provide a sworn declaration that is signed by an authority figure who can attest to your identity and age (such as a counselor, traditional leader, social worker, minister of religion, or school principal).

A SASSA employee will take your fingerprints. You will be referred to the Department of

Home Affairs to apply for the ID while your application is being processed. Your grant will be cancelled if you don't get an ID.

Proof of your marital status (if applicable).

Proof of your address.

Proof of your income and/or dividends.

Evidence of your assets, including the value of your property.

Evidence of your private pension (if any).
Who qualifies for SASSA old age grant 2023-2024
bank statement for the previous three months.

If you have ever worked, you should obtain a discharge certificate from your prior employer or an Unemployment Insurance Fund (UIF) (often known as a "blue book").

Please send a copy of your spouse's death certificate, will, and first and final liquidation and distribution accounts, if applicable, if they passed away within the last five years.
Please remember that a family member or friend can submit an application on your behalf if you are too frail or ill to get to the office. Give the person a letter from you and/or a note from your doctor outlining your reasons for being unable to come into the office.
Fill out the application in front of the SASSA officer. You will be interviewed by the officer, who will then decide if you qualify for the grant.
The application is free, but you will still receive a receipt. Observe it as proof that you applied.
General inquiries
For more information, call the toll-free helpline at 0800 601 011.
Pay-out dates

Qualifying rules for all government grants

District office addresses and contact numbers

For help with what has happened to your application

How you can also report any fraud or corruption
SOCIAL GRANTS
RELATED LINKS
For more info on Sassa Online Application click here