sassa zero rated 2023-2024
sassa zero rated 2023-2024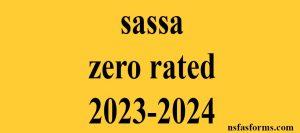 Users are not required to pay any data or internet fees in order to access a website that has been given the srd zero rating. When the SRD zero-rated was introduced, the SASSA srd grant had just been reinstated. Later it was found that some of the applicants did not have the money to pay for the data bundles required to visit the website and fill out an application for unemployment benefits.

One of these breakthroughs was the Moya application. On the free Moya app, users may submit applications and check the status of such submissions without having to pay for internet usage. The majority of applicants were unable to buy internet data allocations because they had lost their jobs.
websites or apps that have been designated as SRD-zero-rated
However, one must first download the most recent version of the moya app from the Google PlayStore in order to utilize it.
The official SRD R350 application website was later designated as SRD Zero-rated by SASSA in collaboration with MTN SA.
What was meant by that?
This meant that anyone using the MTN SA mobile network to view the website https://srd.sassa.gov.za would no longer need data to do so. As a result, applicants are free to apply, check the status of their application, submit an appeal or a request for consideration, as well as other activities.
A website has previously received a zero rating. During the global pandemic, the majority of schools offered online courses, hence some educational websites got a score of 0. This provided select students with free access to those websites in order to enhance instruction and learning.
It should be emphasized, nevertheless, that not all telecom networks were represented in this cooperation. In the majority of cases, MTN has been a prominent sponsor of this programme, enhancing access to online learning for everyone with a smartphone or laptop.
SOCIAL GRANTS
RELATED LINKS
For more info on Sassa Online Application click here