sassa whatsapp number 2023-2024
sassa whatsapp number 2023-2024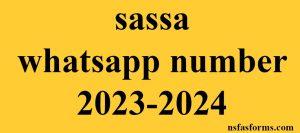 The R350 grant seems to have been reinstated with the adoption of new rules. Because recipients are required to renew, more application portals are appearing.
The guidelines for the Special Relief of Distress (SRD) award were changed once the National State of Disaster was lifted. As a result, recipients were asked to apply again.
Sassa indicated that the WhatsApp line would open and be utilized for applications immediately after the SRD grant applications went live on April 23.
Sassa officially announced on Monday morning that the WhatsApp line for R350 grant applications is now opened.
Here's how to use WhatsApp to apply for a Sassa SRD grant:

Include 082 046 8553 in the contact list of your phone.

"Hello" messages should be sent to this number via WhatsApp.

Then you will get a response, and you should reply with the phrase "help."

There will be various alternatives; choose "4".

When the Unathi Sassa platform message appears as a result, you should reply "SRD." Then, you must specify whether you are applying on behalf of yourself or another person.

You must now submit your name, last name, and ID number in the message to start the application process.

Next, a Whatsapp message containing the next steps will be sent to you.
To access or have your SRD grant application taken into consideration, an applicant must provide Sassa permission to verify their identification, place of residence, source of income, or social security benefits. Additionally, applicants must agree to the declaration and consent.
Sassa advises all consumers who reapplied via srd.sassa.gov.za not to do so via WhatsApp.
Clients will reportedly undergo the SRD grant meanstest once a month to make sure the grant beneficiary is still qualified for it. According to Sassa, it would carry out its meanstest through financial institutions.
In addition, customers have been instructed to go to the website every three months to respond to a few questions that aid the agency in determining if the customer still needs help.
SOCIAL GRANTS
RELATED LINKS
For more info on Sassa Online Application click here