sassa updates about r350 2023-2024
sassa updates about r350 2023-2024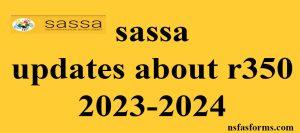 You should reevaluate your application for the R350 Social Relief of Distress (SRD) grant if your situation has altered after you first submitted it. This is the procedure.
It is crucial that the applicant gives proper information while applying for the R350 Social Relief of Distress (SRD) award from the South African Social Security Agency (Sassa).
Sassa will examine any existing SRD grant applications or reapplications made since April 2022 for each month up until March 2023, which is when the grant is slated to expire.
Beneficiaries are urged to keep their applications' personal information current, especially if their circumstances have changed.
How To Update Your Grant Application, Please

Go to https://srd.sassa.gov.za/ to access the Sassa website.

To update your grant application, scroll down.

Click "click here to update your existing application" after that.

Put in both your ID number and your cellphone number.

the "send SMS" button

Once you've logged into your application using an OTP, follow the on-screen directions to change your information.
Beneficiaries are always free to update their screening questionnaire responses if their circumstances change or if they find an error on the Sassa website.
The Agency will not be able to process the applicant's application if the applicant's information is not updated, as Sassa has emphasized.
If your application was denied based on the data in your initial application, Sassa advises that you submit an appeal for each month that it was denied.
When you find that your application has been "rejected," you have 90 days to file an appeal. Following a second assessment of the application, applicants will be informed of the decision of their appeal.
SOCIAL GRANTS
RELATED LINKS
For more info on Sassa Online Application click here