sassa r350 grant 2023-2024  
sassa r350 grant 2023-2024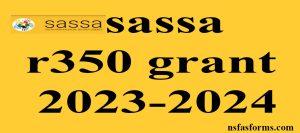 The Special Covid-19 R350 Social Relief of Distress (SRD) award will be extended, according to President Cyril Ramaphosa's statement in the 2022 State of the Nation Address. Re-Apply for an SASSA R350 Grant by following these easy steps.
How to submit an online SRD grant application

Visit the Sassa SRD webpage.

Go to the "How do I apply for this SRD Grant" section by scrolling down

To apply online, click the "click here" link in the yellow bar.

Submit your cellphone number.

Enter the one-time pin Sassa has issued to the phone after clicking "send sms" to send an SMS.

Fill out the forms Sassa requires to continue the application process.
To apply for the SRD grant through WhatsApp,
Send a message to 082 046 8553 on WhatsApp.

Include in the message your name, last name, and ID number.

The next actions will then be stated in a message sent to you over Whatsapp.

An applicant for the Social Relief of Distress Grant must provide SASSA permission to verify his or her identification, residency, income, or social security

benefits in order to enter the program or to have the application reassessed. Additionally, applicants must agree to the statement and consent.
Existing beneficiaries are asked to reapply under the new Act. You won't need to apply again after you've already done so.
RELATED LINKS
For more info on Sassa Online Application click here