sassa questions and answers 2023-2024
sassa questions and answers 2023-2024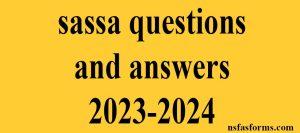 This organization is dedicated to providing critical services to a wide range of South Africans. They have offices located throughout the country, and they strive to make use of the latest technology and modern work spaces to create an environment that encourages their staff to excel. In addition, SASSA recently announced that they will be providing funding up until March 2022.
We receive a variety of inquiries related to Sassa, such as whether their offices are open, if grants are extended, if Sassa cards are changing, if applications are open, if a Sassa card can be used at an ATM, if it is possible to apply online for a Sassa grant, how to check the balance of Sassa, and who gets grants from Sassa. To make it easier for people to get answers to their questions about the R350 grant, we have added a Frequently Asked
Questions section to our Whatsapp line. To access this, you must have an active Whatsapp number and have downloaded the app.
Step 1:
Add 082 046 8553 as a Whatsapp contact and type "SASSA"
Step 2:
Type FAQ
Step 3:
Select the "Frequently Asked Questions" category
Qualifying Criteria for Social Relief Of Distress

How To Apply for the SRD grant

Status Of My Application

Banking And Payment-Related Queries

Multiple Applications And Rejections

SASSA Contact Centres
The SASSA website also has frequently asked questions at www.srd.sassa.gov.za
SOCIAL GRANTS
RELATED LINKS
For more info on Sassa Online Application click here