sassa johannesburg 2023-2024
sassa johannesburg 2023-2024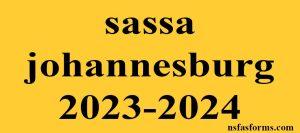 Please read the contact details listed below for SASSA grants in Johannesburg, Gauteng, for inquiries and applications related to Social Security. You can call the SASSA Gauteng Regional Office in Johannesburg to obtain all the information you require for a social security award. Below is also a list of the official webpage.
SASSA social security in Johannesburg, Johannesburg (Gauteng)
Office:
Gauteng Regional Office
Johannesburg – Johannesburg
Manager:
Telephone Number:
011 241 8300
Office E-mail:
GrantsEnquiriesGP@sassa.gov.za
Website:
Toll-Free Number:
0800 60 10 11
Social Security Grant
You can get information and/or apply for the following grants at the SASSA Gauteng Regional Office: Child Support, Social Relief of Distress, Disability, Foster Child, Older Persons/Senior Citizen, Grant-In-Aid, Care Dependency, and War Veterans Grant.
How to apply for an unemployment grant?
The special COVID-19 Social Relief of Distress grant is only available online. For more information, visit gov.za/covid-19/individuals-and-households/social-grants-coronavirus-covid-19.
Important notice for SASSA grant in Johannesburg, Johannesburg
Please contact the following office for more information on social security grant applications or renewals: Regional Office in Gauteng
– directly by telephone at 011 241 8300 or
– by email GrantsEnquiriesGP@sassa.gov.za
More information
Please visit www.sassa.gov.za for more information on the SASSA South African Social Security Agency and Grants.
Coronavirus (COVID-19)
During the coronavirus / covid-19 emergency period in South Africa, the opening hours of the Department of Home Affairs Office in Johannesburg may change.
SOCIAL GRANTS
RELATED LINKS
For more info on Sassa Online Application click here