sassa information update 2023-2024
sassa information update 2023-2024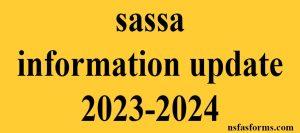 Numerous platforms, including WhatsApp, the SRD website, and the SASSA chatbot, are available for applying for the grant. After submitting their applications, candidates can use the SRD website, WhatsApp, or the toll-free phone center to verify the status of those applications.
Step 1:
Visit the SRD website – https://srd.sassa.gov.za/
Step 2:
"Request Names and Surname Update" can be found further down.
Step 3:
Exactly as they appear on your SA ID card or other document, enter your name, last name, and ID number.

Your names and surnames must match in order for the Department of Home Affairs database to be updated.
NOTE:

Candidates may request reevaluation within 30 days after receiving the declined reason if the application is still denied after the correction of the specific details.

By calling the SASSA toll-free call center or visiting the SRD website and selecting the "Application for Reconsideration" button, you can submit a request for reconsideration.

There is no specific payment date because the R350 grant is just temporary.
SOCIAL GRANTS
RELATED LINKS
For more info on Sassa Online Application click here