sassa helpline 2023-2023
sassa helpline 2023-2024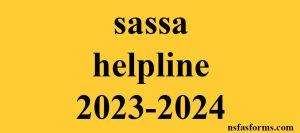 Need assistance with SASSA, details on funding, or responses to your inquiries? Here is how you can contact them.
In South Africa, SASSA is in charge of overseeing social services for the underprivileged and vulnerable. Grant seekers and beneficiaries can get in touch with us. This is the method.
Regional Customer Care Numbers
Kwazulu-Natal: 033 846 3400
Gauteng: 011 241 8320
North West: 018 397 3333/0360
Cape Town: 021 469 0235
Limpopo 015 291 7499/ 015 291 7415/ 015 291 7505
Free State: 051 410 8339
Eastern Cape: 043 707 6335
Mpumalanga: 013 754 9462
Northern Cape: 053 802 4900
Social Media
SASSA Twitter: @OfficialSASSA
SASSA Facebook: SASSANewsZA
SASSA Online
The official SASSA website can be found by visiting www.sassa.gov.za. This will take you to the SASSA homepage, where you can find news about grants, pertinent press releases, or details on the various SASSA grants you may be interested in.
Go to srd.sassa.gov.za to access the website for the SRD grant. You can learn more about the SRD grant and how to apply for it here. This website also allows you to check the status of any applications you may have already submitted.
You can visit services.sassa.gov.za to access the SASSA services website. Information on grants and other services offered by SASSA can be found on this website.
Gauteng
Mr Themba Matlou
E-Mail: ThembaMat@sassa.gov.za
28 Harrison Street
Johannesburg
2000
Private Bag X120
Marshalltown
2107
Tel: 011 241 8320
Fax: 011 241 8305
E-Mail: GrantsEnquiriesGP@sassa.gov.za
Branch Coordinator:
E-Mail:
Limpopo
Ms Zodwa Mvulane
E-Mail: ZodwaMv@sassa.gov.za
43 Landros Mare Street
Polokwane
0699
Private Bag X9677
Polokwane
0700
Tel: 015 291 7509
Fax: 015 291 7416
E-Mail: GrantsEnquiriesLIM@sassa.gov.za
E-Mail: CustomerCareLim@sassa.gov.za
Branch Coordinator:
E-Mail:
Free State
(Acting) Mr Mohodi Tsosane
E-Mail: MohodiT@sassa.gov.za
Cnr St. Andrew Street & Aliwal Street
Bloemfontein
Private Bag X20553
Bloemfontein
9300
Tel: 051 410 8339
Fax: 051 409 0862
E-Mail: GrantsEnquiriesFS@sassa.gov.za
Branch Coordinator: Liziwe Stokwe
E-Mail:LiziweS@sassa.gov.za
Tel: 051 410 8552
KwaZulu Natal
(Acting) Mr Simlindile Jabavu
E-Mail: SimlindileJ@sassa.gov.za
sassa helpline 2023-2024
1 Bank Street
Pietermaritzburg
3201
Private Bag X9146
Pietermaritzburg
3201
Tel: 033 846 3400
Fax: 033 846 9595
E-Mail: GrantsEnquiriesKZN@sassa.gov.za
Branch Coordinator:
E-Mail:
SASSA Head Office
SASSA House
501 Prodinsa Building
Cnr Steve Biko and Pretorius Streets
Pretoria
Private Bag X55662
Arcadia
Pretoria
0083
Tel: 012 400 2322 (Switchboard)
0800 60 10 11
Website: www.sassa.gov.za
Grants Enquiries
SASSA Toll Free: 0800 60 10 11
E-Mail GrantEnquiries@sassa.gov.za
Mpumalanga
Mr Themba Matlou
E-Mail: ThembaMat@sassa.gov.za
18 Ferreira Street
Nelspruit
1200
Private Bag X11230
Nelspruit
1200
Tel: 013 754 9446
Fax: 013 754 9501
Branch Coordinator:
E-Mail: GrantsEnquiriesMP@sassa.gov.za
North West
Ms Zodwa Mvulane
E-Mail: ZodwaMv@sassa.gov.za
1st Industrial Site
Mahikeng
2735
Private Bag X44
Mmabatho
2735
Tel: 018 388 4006
Fax: 086 611 9740
E-Mail: GrantsEnquiriesNW@sassa.gov.za
E-Mail: sassanwqueries@net1.com
Branch Coordinator:
E-Mail:
Northern Cape
(Acting) Mr Mohodi Tsosane
E-Mail: MohodiT@sassa.gov.za
sassa helpline 2023-2024
Permanent 'Perm' Building
33 Du Toitspan Road
Kimberley
8300
Private Bag X6011
Kimberley
8300
Tel: 053 802 4919
Fax: 053 832 5229
E-Mail: GrantsEnquiriesNC@sassa.gov.za
Branch Coordinator: Linda Denga (Klaas)
E-Mail: LindaD@sassa.gov.za
Eastern Cape
(Acting) Mr. Zanoxolo Mpeta
E-Mail: OscarM1@sassa.gov.za
BKB Building
Cnr Fitzpatrick & Merino Road
Quigney
East London
Private Bag X9001
Chiselhurst
East London
5200
Tel: 043 707 6335
Fax: 043 707 6487
E-Mail: GrantsEnquiriesEC@sassa.gov.za
E-Mail: ECCustomerCare@sassa.gov.za
Branch Coordinator: Felicia Dickens
E-Mail: FeliciaWi@sassa.gov.za
Western Cape
(Acting) Mr. Abraham Mahlangu
E-Mail: AbrahamM@sassa.gov.za
Golden Acre
Adderley Street
Cape Town
8000
Private Bag X9189
Cape Town
8000
Tel: 021 469 0235
Fax: 021 469 0260
E-Mail: GrantsEnquiriesWC@sassa.gov.za
SOCIAL GRANTS
RELATED LINKS
For more info on Sassa Online Application click here