sassa food parcel 2023-2024
sassa food parcel 2023-2024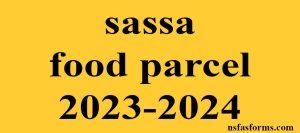 A South African Social Security Agency (SASSA) office close to you is where you can submit an application for an SASSA food parcel. The application form is available at your nearby SASSA office but cannot be found online.
Please submit your application together with the necessary documents:
your 13-digit barcoded identification document and the birth certificates of your kids
An affidavit from your local police station, chief, councilor, or religious leader may be sufficient if you don't have identity or birth documents.
SOCIAL GRANTS
RELATED LINKS
For more info on Sassa Online Application click here