sassa email address 2023-2024
sassa email address 2023-2024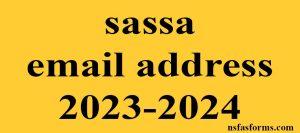 Are you worried about your R350 grant? For applicants and recipients of the SRD grant, SASSA has developed a number of contact points.
There are various ways to get in touch with SASSA if you have any inquiries or change requests.
The Independent Appeals Tribunal, not SASSA, should be contacted with any inquiries regarding R350 grant appeals, which calls for a distinct contact information.
You can reach the SASSA's toll-free phone center at 0800 60 10 11. Simply press 1 and adhere to the on-screen instructions after making a call.
Additionally, you can email us at grantenquiries@sassa.gov.za. To help them identify you and find your information more quickly, include your ID number in the email.
Please get in touch with Kenneth Baloyi, the manager of Sassa's contact center, if you experience any issues with the helpline. His phone number is 079 308 1033, and his email address is kennethba@sassa.gov.za.
The SRD website is a resource for the R350 grant and can be accessed at https://srd.sassa.gov.za. You may find more details on the SRD grant and instructions for applying here. If you've previously submitted an application, you can use this page to see how it's progressing.
The Independent Appeals Tribunal, not SASSA, must be contacted if you require assistance with your SRD award appeal.
The Tribunal can be reached by phone at 012 312 7727 or by email at grantappeals@dsd.gov.za.
SASSA can also be found on the following social media platforms:
Twitter – @OfficialSASSA
Facebook – SASSA News
SOCIAL GRANTS
RELATED LINKS
For more info on Sassa Online Application click here