sassa east london 2023-2024
sassa east london 2023-2024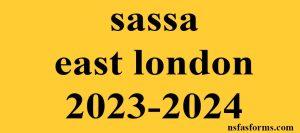 Are you a resident of the Eastern Cape looking for an SASSA Office nearby? We can help. Continue reading to learn the locations of the SASSA offices in the Eastern Cape.
The South African Social Security Agency (SASSA) offers social grants to people who are at risk of poverty and need support from the state.
Do you need help with SASSA and are looking for an SASSA office nearby? Here is a list of every SASSA office in the Eastern Cape.
At the junction of Fitzpatrick and Merino Roads in Quigney, the SASSA Regional Office is housed in the BKB Building.
The postal address for this office is:
Private Bag X9001,
Chiselhurst,
East London,
5200
You may contact them via the following channels:
Telephone: 043 707 6300
Fax: 043 707 6481
Email: GrantsEnquiriesEC@sassa.gov.za
The SASSA provides a number of social grants, including grants for kids, the elderly, and those with disabilities, in addition to the R350 Social Relief Distress (SRD) grant, which was launched during the Covid-19 crisis.
SASSA was founded in 2005 to administer social funds on behalf of the Department of Social Development. This was created to improve national lifestyles and is distributed to people who are defenseless against poverty or may require assistance from the government.
A means test is used to determine whether a person's financial situation falls below a predetermined cutoff point for grant eligibility.
SOCIAL GRANTS
RELATED LINKS
For more info on Sassa Online Application click here