sassa Consent form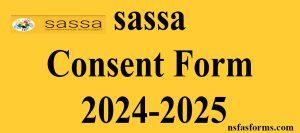 An applicant signs a permission form to confirm their agreement with a proposed activity. Consent form for the South African Social Security Agency (SASSA).
The authorization form is available for download below. Please read the SASSA Grant (Social Relief of Distress Grant) online application process before beginning your download (SRD).
Online application process for SRD grants
Dates for SRD grant applications
Applications for Sassa R350 grants are accepted on a monthly basis. A minimum of once every three months, all SRD R350 grant candidates must validate their award requests.
sassa Consent form
Requirements for SRD R350 Grant Applications
For applicants to utilize while applying, each application contains prerequisites or criteria. The applicants must provide the documentation listed below.
Must be a citizen of South Africa, a permanent resident, a refugee, an asylum seeker, or possess a special permit
Need to be unemployed\
Must not receive any financial help from another source or an alternate source of income.
Must fall within the age range of 18 and 60.
Required paperwork for applicants
The applicants must provide the documentation listed below:
The Department of Home Affairs or identity number Number of a refugee permit
Name and last name as they appear on the identification Information
Phone Number
Residential Address
sassa Consent form
THE CONSENT FORM MAY BE DOWNLOADED BY APPLICANTS HERE
RELATED LINKS
Sassa Online Application Grant
SRD Grant Online Application Types
sassa declaration form 2024-2025
Sassa Online Application links