sassa balance check for r350 2023-2024
sassa balance check for r350 2023-2024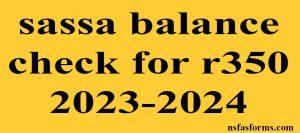 It shouldn't be difficult for everyone who receives social handouts from SASSA to check their SASSA balance. The SASSA card is one of the most often used methods of paying its beneficiaries, excluding those who opt to utilize their chosen personal private banks. Below, we've provided many methods for checking your SASSA balance.
Checking Your SASSA Balance
To check your SASSA balance on your phone, follow these steps:
Dial *120*3210# on your phone

Follow the prompts
If the above USSD code and balance check do not work, then try the following:
Dial *120*69277# on your phone

Follow each step

You should then get an SMS notification
Status Check Your SASSA Balance on Your Phone using WhatsApp
To check your SASSA status, utilize WhatsApp on your smartphone:
Send the word "Sassa" to the 082 046 8553 Sassa WhatsApp application number.

Send a message that says "Status"

If you can provide a reference number, respond "Yes."

Please reply using the mobile number you provided on your grant application.

Put your reference number in the reply.
Grant seekers can also check the progress of their SRD grant applications right now here on the official SASSA website: https://www.sassa.gov.za

Applicants can also check the status of their SRD grant applications on the official SASSA website by using the online dashboard link at https://srd.sassa.gov.za/sc19/status.
Social aid is managed by SASSA, a branch of the Department of Social Development Agency, in accordance with Section 3 of the Social Assistance Act. Giving grant recipients incentives and funding is the major aspect of this. Follow the company on Twitter at @OfficialSASSA to receive the most recent updates and emails.
SASSA provides South Africans with a wide range of social subsidies, from care dependant and child support to disability and war veterans.

The SRD R350 award, also known as the Covid-19 R350 Social Relief of Distress Grant, was recently established by the department. For people who are currently unemployed and do not receive any income, social grants, or UIF payments, this is a six-month award worth R350 per month. On the SASSA website at https://srd.sassa.gov.za, you may find further information on the Covid SRD R350 award, including the application procedure and eligibility requirements.

SASSA will manage all R350 Grant Applications and Social Grant Payments.
SOCIAL GRANTS
RELATED LINKS
For more info on Sassa Online Application click here