sassa appeal for r350 2023-2024
sassa appeal for r350 2023-2024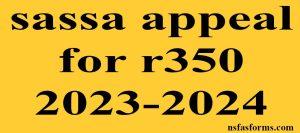 You can submit an appeal if your application was first rejected and you want to be given another chance. To find out how to appeal an SRD grant, keep reading.

If you apply for the Special Relief of Distress grant and are turned down, it's not the end of the road; you still have a chance. How? However, you have the option to appeal.

According to Minister Lindiwe Zulu, whose department is in charge of SASSA, "Any application whose grant is not accepted has the right to request that the decision not to give the grant be revisited through an appeals process."

Within 30 days of receiving notified of your rejection status, the appeal must be submitted online.

It is essential to periodically check the progress of your application because of this. As soon as a decision is made, the website updates with information regarding your SASSA grant.
How To Appeal For SRD Grant
Go to Sassa Appeals Website

Enter ID number

Enter telephone number

Lodge appeal
There must be an appeal submitted each month the grant is rejected.
SOCIAL GRANTS
RELATED LINKS
For more info on Sassa Online Application click here