sassa account 2023-2024
sassa account 2023-2024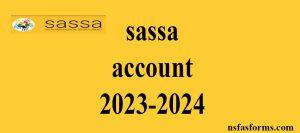 Please read on to discover how to set up an SASSA account online.
The South African Social Security Agency (SASSA), a national government agency, administers social subsidies in place of the Department of Social Development.
The elderly, individuals with impairments, and parents of young children are among those who qualify for these social payments because they need the government's help and are at risk of falling into poverty. They want to improve societal living standards.
If you've been wondering how to set up an SASSA account online, follow these steps:
Complete the user registration form

Give your contact information, including your name, surname, ID number, etc.

In addition to your phone number, including your email address.

(Be sure to regularly update and use your contact information as you may receive communication from SASSA on it.)
Give your password, which you will use to access your SASSA account.
After making an account, you can log in to submit grant requests using your online SASSA account.
All applicants must be South African citizens, legal permanent residents, or internally displaced persons.
If you have to do any of the following, click here:
Apply for a grant

Update personal details

Contact grant customer support.
SASSA opens a website for submitting funding applications
Some candidates for social grants will be able to submit their applications online beginning on Monday, September 14, 2020. Grants for older people, child support, and foster children are now covered by the experimental initiative. Through the safe website https://services.sassa.gov.za, applications may be made. After the system has been reviewed, additional grants will be uploaded to the portal.
This will save grant applicants the hassle of having to wait in line at SASSA offices in order to apply for their funds, therefore they should feel glad about it. Because there is no need to gather in crowded places to submit an application, the convenience of online applications offers the extra advantage of reducing the danger of COVID-19 infection. This remote self-service will be accessible from both a PC and a mobile device. The turnaround time is 10 days if the application submits all the necessary paperwork, including identity documents for the applicant and spouse as well as banking information.
As a result, the following SASSA services will be available:

online submission of the required supporting documents for applications for grants for foster

children, older adults, and child support;

changes to the payment method, address, or banking information;

Status of the application

To register for this service and log in to use other services, users must have an email address. Feedback will be delivered to an applicant via SMS if they don't have an email address, and via email if they prefer to be reached by email. A receipt is produced once the application is finalized.

The technology will be tested from September 14 through September 25, 2020. It's important to keep in mind that any supporting documentation you submit needs to be certified. These documents need to be certified by an oath commissioner.

SOCIAL GRANTS
RELATED LINKS
For more info on Sassa Online Application click here