sassa 720 2023
sassa 720 2023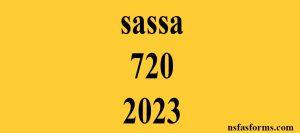 Some recipients of the Child Support Grant (CSG) will soon be able to receive higher payments, it was recently reported. The Department of Social Development has published the Social Assistance Amendment Act, which aims to enhance social assistance benefits for orphans and vulnerable children (DSD).
A total of R720 will be given to caregivers, which includes the current grant value of R480 plus an additional R240 (50 percent of the basic CSG).
It is projected that 191 200 individuals will gain from this new program during the fiscal year 2022–2023. This number of beneficiaries is expected to increase to 238 500 and 287 400, respectively, in the fiscal years 2023–2024 and 2024–2025. The expected cost of CSG top-up for the fiscal year 2022–2023 is R550.66 million; however, actual costs will be less due to implementation delays.
The regulations are expected to be issued in June 2022, while the DSD reports that there have been translation delays. Following their application for the award, potential applicants will receive the top-up (R240) and CSG in a single payment.
Once it is made a permanent support measure by law, the CSG top-up grant will be implemented. This is presuming that awardees adhere to the criteria for the award.
sassa 720 2023
How to Apply for the Child Support Grant Top Up

certified copies of the death certificates of the child's parent(s);

if the applicant is unable to obtain the death certificate of one of the child's parents,

a certified copy of one parent's death certificate and an affidavit by the applicant attesting to the unknown status of the child's other parent.
SOCIAL GRANTS
RELATED LINKS
For more info on Sassa Online Application click here