lindwe zulu sassa 2023-2024
lindiwe zulu sassa 2023-2024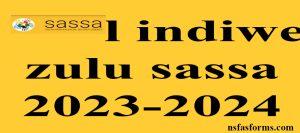 Minister Zulu will address the media regarding R350 COVID-19 social relief of distress awards and child support top-up.
Underserved and vulnerable populations rely on social development initiatives to live and improve their quality of life. October has been designated as a month for social development.
The Minister of Social Development, Ms. Lindiwe Zulu, will give an update on Monday, October 10. She will discuss the R350 COVID-19 Social Relief of Distress (SRD) grant and the Child Support Grant (CSG) Top-Up, as well as the department's efforts to ensure that the country is aware of the services it provides.
The Minister will make the most of the chance to emphasize the requirements and eligibility for South Africans to access the CSG, which is not a replacement for the standard Child Support Grant for orphans in the care of relatives but rather an addition to it. The Minister will utilize this opportunity to emphasize the topic of this year's Social Development Month, which is "United in the Fight Against Poverty and Other Social Ills." A status report on the R350 COVID-19 Social Relief of Distress grant will also be supplied to her.
The Department of Social Development will host a seminar on Sexual and Reproductive Health Justice (SRJ) on the same day. The goal of this lecture is to arm the vulnerable and disenfranchised with the information and skills they need to make responsible decisions about their bodies, sexuality, and reproduction.
The Nairobi Summit's highlights are covered in depth in the ICPD25 Report (2021), "No Exceptions, No Exclusions: Realizing Sexual and Reproductive Health, Rights, and Justice for All," which will also be discussed during the seminar.

lindiwe zulu sassa 2023-2024
The following two appearances are scheduled and are open to the media:
Media Briefing Programme:
Date: Monday, 10 October 2022
Time: 10h00
Venue: 1035 Schoeman Street, Tshedimosetso House, GCIS in Hatfield, Pretoria

Media can RSVP to Mr. Jaconia Kobue at 063 249 5120 or JaconiaK@dsd.gov.za or Ms. Nomfundo Xulu-Lentsoane at 066 480 6845 / NomfundoLe@dsd.gov.za

Media inquiries may be forwarded to
Ms. Lumka Oliphant
Cell: 083 484 8067
Email: lumkao@dsd.gov.za
What did Lindiwe Zulu say regarding the R350 grant?
Zulu said the government was still committed to eradicating poverty even though the eligibility criteria had been tightened. The R350 grant was intended to assist underprivileged areas at the height of the COVID-19 outbreak.
SOCIAL GRANTS
RELATED LINKS
For more info on Sassa Online Application click here