irp5 sassa 2023-2024
irp5 sassa 2023-2024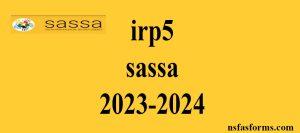 What does it mean that 20% of R350 SRD grant applicants were turned down by SASSA because they were IRP5 registered? Read on to find out.
As part of the R500 billion social and economic support package that the president proposed in April when the national lockdown began, the South African Social Security Agency (SASSA) has paid the R350 Covid-19 Social Relief of Distress payment for unemployed persons.
Many applications for the R350 SRD award were turned down, and some received letters informing them that their records showed they were IRP5 registered.
When asked what this meant, SASSA responded as follows:
"Irp5 registered" denotes that the system has detected an alternate source of revenue using your information.
IRP5 is a document that, at the conclusion of the year, lists the connected incomes, taxes, and relevant deductions of the employer and employee. It's also known as a tax certificate for an employee.
Employees file their annual income tax returns using the IRP5 form.
IRP5 Registered signifies that the SASSA system, using the applicant's information, has discovered an additional source of income. This shows that the system still views the person as being employed.
By contacting SARS and revising their papers, the applicant can correct this. SARS may need more supporting paperwork from the applicant's prior employment.
Contact SARS at 0800 00 7277 or online at the SARS web site for assistance with this.
They may then appeal to SASSA after this has been revised. However, because they are currently handling a large volume of appeals, SASSA advises applicants to wait.
The enormous number of persons who have appealed their applications more than once has further slowed down the appeals process.
Additionally, SASSA is requesting these applicants' patience as they work hard to speed up the process and assure them that they will get in touch with them as soon as possible.
SOCIAL GRANTS
RELATED LINKS
For more info on Sassa Online Application click here