hoe to apply for R350 under the new rules 2023-2024
How to apply for R350 under the new rules 2023-2024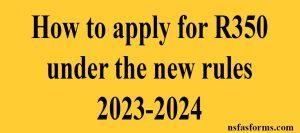 Now that the National State of Disaster is over, new rules are being applied to the Sassa R350 prize. Here's how to submit your application for an R350 grant using these updated instructions.
HOW TO COMPLY WITH THE NEW RULES FOR THE R350 GRANT

The Special Relief of Distress (SRD) award is currently managed under the Social Assistance Act rather than the State of Disaster Act because there is no longer a National State of Disaster. What adjustments have been made to applications for SRD grants?
The SRD money is expected to run out in March 2023. Sassa R350 grant applications are accepted on a monthly basis.
HOW TO APPLY ONLINE FOR THE SRD GRANT

Check out srd.sassa.gov.za

Visit the "How Do I Apply" section to submit an application for this SRD Grant.

On the yellow bar, select the "click here to apply online" link.
enter your cell phone number

Click "send sms" after entering the one-time pin that Sassa has given to the number.

To continue the application procedure, complete the Sassa-required forms.
How to apply for R350 under the new rules 2023-2024

HOW TO COMPLETE A WHATSAPP SRD GRANT APPLICATION

Make a contact on your phone for 082 046 8553.

Use WhatsApp to send a "hello" message to this number.

You will then receive a response to which you should respond, "Help."

There will be a number of options available to you; choose "4"

After that, you'll be taken to the Unathi Sassa platform message, where you can
which you ought to answer "SRD."

The next step is to indicate whether you are applying on your own behalf or on behalf of someone else.

You must submit the message with your first and last name, as well as your ID number, now that the application process has begun.

Afterwards, you'll receive a message over Whatsapp outlining the next steps.
In order to access or have your SRD grant application taken into account, an applicant must permit Sassa to verify their identify, residency, income, or social security benefits. The declaration and consent must also be accepted by applicants.
A new application under the revised Act is encouraged for current beneficiaries. Once you've submitted an application, you won't need to do it again.
How to apply for R350 under the new rules 2023-2024
Applicants are asked to submit just one application, rather than several applications across many platforms. You will get confirmation as soon as the application has been submitted correctly.
Sassa must then decide whether to accept or reject any SRD grant applications submitted by the 15th of the month. After that, the receivers will receive an SMS informing them of their acceptance or rejection.
SOCIAL GRANTS
RELATED LINKS
For more info on Sassa Online Application click here