How do i know if SASSA SRD is approved 2023-2024
How do I know if SASSA SRD is approved 2023-2024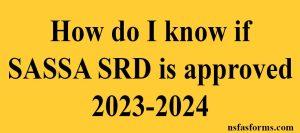 This is a summary of the processes involved in assessing whether the Sassa R350 is authorized. To find out if the SASSA SRD R350 grant has been authorized, do the following:

Launch your browser or get the Moya app.

In the address box, enter https://srd.sassa.gov.za/sc19/status.

After the page has fully loaded, enter your ID number and the phone number you used to apply.

Choose "Submit" from the menu.

Decide which month you wish to check to see if it has been approved for.

Choose June 2024.

Your application status—whether it is accepted, rejected, or pending—is shown when you click the month.

Does it have a pay date if it is approved, or not?

If it is the pay date, double-check the pay date and the date that SASSA filed the payment.

If there are no pay dates, wait a while.
How do I know if SASSA SRD is approved 2023-2024
If you choose to use a bank account to receive the grant, it will be put into that account on the day you select.

Your award will be paid into your bank account on the date shown on the dashboard if you opt to use a bank account to receive it.

Hence, keep an eye out for SMS or bank alerts.

You can also go to the retailer in person, such as USave, Shoprite, Pick and Pay, or Boxer Stores, to pick up your award.
Another data-free app to use to find out if your SASSA SRD R350 grant has been granted is Moya App.
SOCIAL GRANTS
RELATED LINKS
For more info on Sassa Online Application click here