How do I check my SASSA payday 2023-2024
How do I check my SASSA payday 2023-2024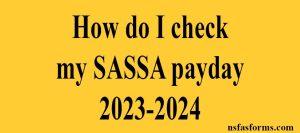 Please follow the steps below if you wish to check your SASSA R350 Paycheck for 2023-2024:
Use the following link to access your SRD R350 account or the Moya App: https://srd.sassa.gov.za/sc19/status

Type in your ID number as well as the application phone number.

Tap the "Submit" button.

Choose the month, for example, January 2023, to learn when payday is.

To view the month, click on the.

Is it accepted, rejected, or still pending?

If authorized, have a look below the approved to see the submitted days and paydays.

If you are using your personal bank account, your account will be credited on payday.

SASSA has officially issued payments for you to be paid, according to the filed date.

If rejected, you have 30 days from the rejection date to file an appeal.

Wait for the resolution if the matter is still open.

Wait until the pay dates appear if your application was accepted without them.

Please call SASSA at the toll-free number 0800601011 if there is anything you don't understand.

As an alternative, you can call SASSA to have them check your SRD R350 grants payday on your behalf at 0800601011 (toll-free). Ensure that you are prepared by having your ID number on hand.
How do I check my SASSA payday 2023-2024
Also, you may check payday using the Moya app.

Open the Moya app and look under Discovery for the SRD icon.

Enter your ID NUMBER and the cell phone number used to submit the application when it asks

you to check the status of the application.

Tap the "Submit" button.

Choose the month of your choice, such as August 2022.

To view the status, click it.

If authorized, the status will indicate pay dates.

Payday will display the date on which the money will be deposited into your bank account or made at a physical location.
SOCIAL GRANTS
How do I check my SASSA payday 2023-2024
RELATED LINKS
For more info on Sassa Online Application click here