govchat sassa application 2023-2024
govchat sassa application 2023-2024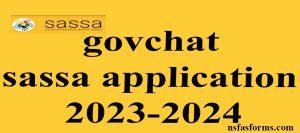 The SASSA strives to make the application process for R350 grants as straightforward and uncomplicated as possible. Therefore, GovChat is one method for submitting SRD award applications; continue reading to learn how.
Early in August, the second round of R350 grant applications opened up. They will be accepted through March 2024.
One place where you may apply for SRD financing is GovChat. How to accomplish it is as follows:
Go to the GovChat website

Enter your phone number

Complete the Captcha

Click 'LOGIN'

Click on 'SASSA Services'

Click on 'SASSA Grants'

Click on 'Apply for a grant

Click on 'Social relief of distress (R350)'

Click on 'Create New Form'

Fill in the required information

Click on 'SUBMIT PERSONAL DETAILS'

After that, you will be given a reference number.
Since SASSA will work with other institutions to verify the information provided by applicants, all applicants will be required to sign a statement and permission form.
To learn how your R350 grant application is doing, you must do an SASSA grant status check. To learn more about how to do this, go here.
You will get payment when your application is accepted. Regardless of whether SASSA accepted your R350 grant application, SASSA will often check to see if you still qualify, so you won't need to reapply every month.
You may appeal the judgment if SASSA denies your request for an SRD award and you believe it was done so unjustly.
The online appeal must be lodged within 30 days after receiving notification of your rejection status.
SOCIAL GRANTS
RELATED LINKS
For more info on Sassa Online Application click here