can sassa cards be used at atm 2023-2024
can sassa cards be used at atm 2023-2024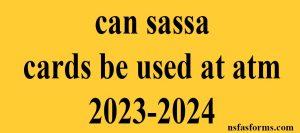 If you are a recipient of a SASSA grant, you may be wondering if you can withdraw your payment from an ATM using your SASSA card. Read on to find out more.
The South African Social Security Agency (SASSA) is a government-funded organization that provides financial aid to vulnerable and impoverished South Africans. These social grants are designed to help improve the lives of those in need and are given to people who are at risk of poverty and require state assistance, such as the elderly, people with disabilities, and those with young children.
Recipients of SASSA grants have access to various methods of withdrawing their payments, so can you use your SASSA card to withdraw money from an ATM?
Yes, you can withdraw your SASSA award payments from a South African Post Office (SAPO) or any ATM of the major banks in the country, as SASSA has a card payout system in place.
SASSA recipients were encouraged to take advantage of the waived ATM bank charges during the Coronavirus lockdown and deposit their award installments into a financial account that is in their name. This way, they can easily withdraw the money sent to their account from an ATM without having to queue up at post offices.
Follow these steps to use your SASSA card at an ATM:
Insert your SASSA card into the ATM.

Enter your PIN number.

Select the type of transaction you would like to complete (e.g. withdraw cash, transfer funds, etc.).

Follow the instructions on the screen to complete your transaction.

Collect your cash and/or receipt and remove your SASSA card from the ATM.
SOCIAL GRANTS
RELATED LINKS
For more info on Sassa Online Application click here